XL CNC processing - Turning and milling - Machine installations - Metal structures
We have been providing you with high-tech solutions for 20 years
Production and processing of metal structures and installation of mechanical installations at home and abroad – industrial solutions in the manufacture and processing of metal parts of machines and devices. Metals are mainly used in the process as base materials.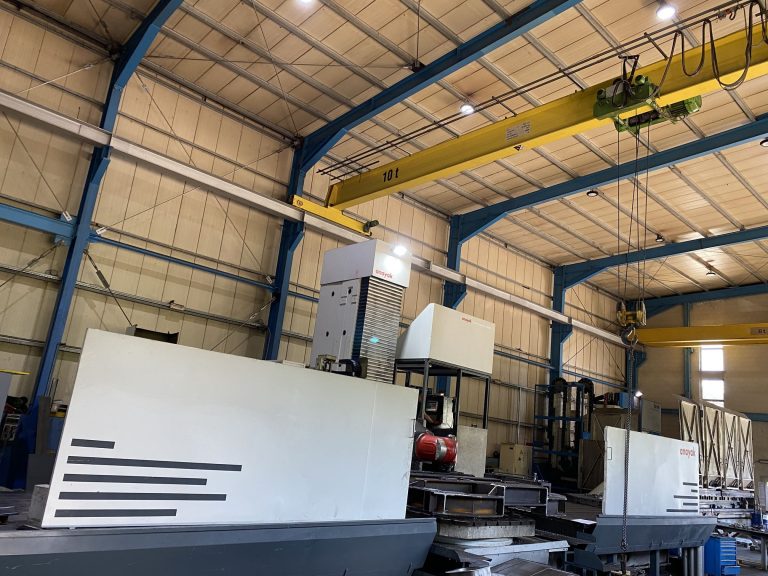 CNC turning services up to m fi
CNC milling and machining services up to m length, m height
Manufacture and sale of metal structures and other industrial solutions to order
Mechanical engineering
Manufacture and installation of metal / ALU canopies
Manufacture and sale of paper and cardboard presses
Installation of mechanical installations in Slovenia and abroad with our own team
Our employees are experts in the field of machining, programming and finding solutions to optimize the work process in terms of modernization, assembly and machining on CNC.
Let the numbers speak for themselves.
Quality comes first. Even with the smallest products, we look at the details every minute. We are 100% focused on customer needs throughout the cycle.

We are creators you can trust and we have the answer to your every request.

Versatile experience in the field of technology and above-average mentality.
With our versatile experience in the field of technology and above-average thinking outside the box and a great sense of solving problems with our ideas based on many experiences and invaluable knowledge, we can offer affordable and easy solutions, which in the company and in cooperation with our business partners implementation of projects. We are also distinguished by dynamism and flexibility.
In the coming years, we want to become a leading company in the field of XXL CNC machining and assembly, and this can only be achieved through an efficient production process based on digitalization of business production processes, and is the key to success, traceability and optimization of production.
With the coherent integration of production and business processes, we want to achieve high efficiency and rationalization. Our company can thus expand, which in turn raises the standard of quality and satisfaction of our customers, which is due to higher added value to our products.
We can only achieve this mission with the help of the abilities and skills that our employees have and by effectively digitizing our production and business processes.
In the coming years, we plan additional employment, increase sales and further expand our activities to the market in terms of sales of little used CNC machines, their renovation and repair, modernization and sales.